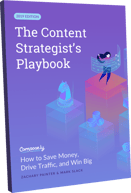 From Compose.ly
The Content Strategist's Playbook
Download your free copy today!
What you'll learn:
How outsourcing saves you time and thousands of dollars
How to write a job description that attracts top talent
What types of content are most effective for your business, and why
The different kinds of content goals and how to convey them to your writer
How to establish professional working relationships with freelancers
How to outsource SEO-friendly content that ranks #1
Our ebook gives you the complete skyscraper perspective on content marketing and outsourcing. We provide the ins and outs of the industry so you can get ahead of your competitors without spending an arm and a leg.